London, March 31 2020. In response to the widespread disruption caused by COVID-19, legal transaction management platform, Legatics, is offering all new customers full access to its entire platform for free for the next 6 months, and is rolling-out free webinar training for both existing and prospective customers.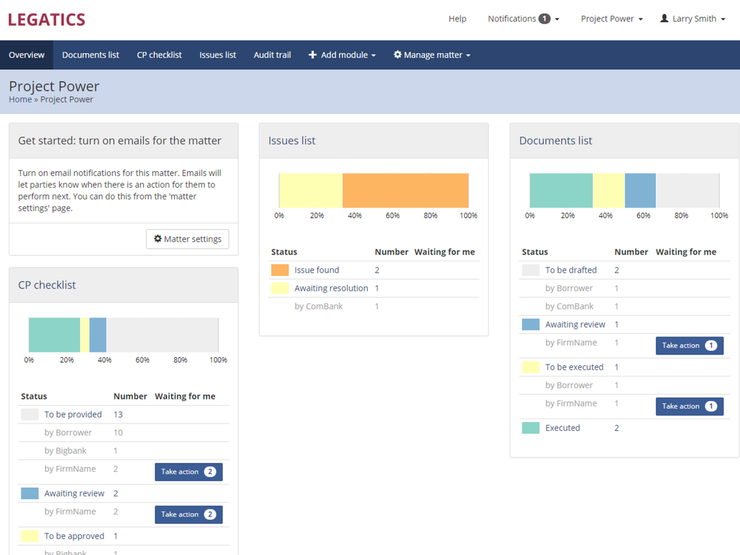 New customers will have full access to Legatics' entire suite of deal management tools, including its checklist, bibling, issues list, KYC, and signing and completion modules, for free until 30 September 2020. With law firms and their clients facing unprecedented disruption to how they typically manage and close their deals, Legatics hopes its offer will ease the burden on lawyers and their clients working remotely by providing greater collaboration and coordination on their deals.
Given the transition to working from home, Legatics wants to ensure its customers can take full advantage of technology tools that assist with remote deal management. Legatics is organising short, bespoke introductory and refresher training via webinar, enabling users to navigate the Legatics platform and harness all its features.
Daniel Porus, Chief Commercial Officer at Legatics, added, "we are mindful that during these unprecedented times, a wholescale shift to remote working has put a strain on core IT infrastructure for law firms and their clients, and added challenges to coordinating remote teams. We have received feedback from existing customers that Legatics has helped. Therefore, we want to ensure existing customers can take full advantage of Legatics and that other firms have the opportunity to see the benefits for themselves without incurring additional costs in what is already a financially challenging time for businesses. As a SaaS company, Legatics can quickly onboard new customers in time for any upcoming deals".
For more information about this offer and how Legatics can help you and your clients with your transactions during the COVID-19 shutdown, please email info@legatics.com or your existing, dedicated Legatics contact.