Knowledge management is the approach and process by which an organisation creates, shares, uses and manages its intellectual assets, or knowledge and information. This knowledge can take many forms – from hard facts and data, to 'tacit' knowledge that's gained from experience and largely exists in people's minds. In this article, we discuss why knowledge management is important for law firms and the role of technology in this area.
What is knowledge management?
The knowledge of individuals in an organisation will never be as powerful as the knowledge of the organisation as a whole. The aim of knowledge management is to harness what an organisation knows in order to learn, make informed decisions, grow and innovate.

Knowledge management incorporates a number of areas, as shown in the below chart: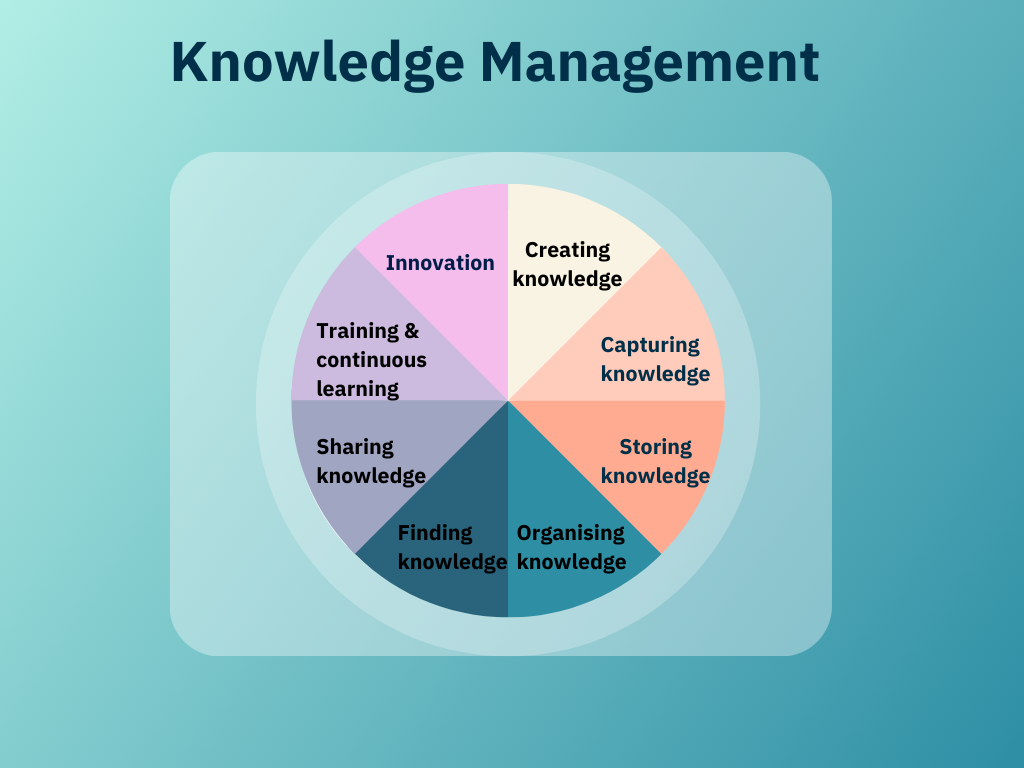 1) Creating knowledge: law firms create a vast amount of knowledge, including a range of documents that lawyers use in their daily work such as precedents and checklists. 
2) Capturing knowledge: identifying and collecting knowledge captured in carrying out the firm's work.
3) Storing knowledge: ensuring captured knowledge can be easily accessed.
Internal systems law firms typically use to store knowledge include document management systems, practice management systems, deal/credential databases, intranets, closing sets/bibles, internal collaboration tools (e.g. MS Teams) and online collaboration platforms.

External sources of knowledge for law firms may include Practical Law, Lexis, Westlaw and Companies House.
4) Organising knowledge: categorising knowledge so it can be easily identified and located by others. Taxonomies, metadata, search, and increasingly the use of AI, help make knowledge more searchable and quicker to find.
5) Sharing knowledge: certain types of knowledge are easier to share than others. For example, 'explicit' knowledge that's captured in documents, reports and guides is easier to share than undocumented 'tacit' knowledge that individuals gain over time, or 'implicit' knowledge which is the 'how' behind a task or process.
6) Finding knowledge: developing easy ways for employees to search and retrieve the knowledge they need is vital. Implementing an enterprise-wide search across a firm's databases is often a solution, but promoting a 'knowledge sharing' culture in your organisation needs to underpin this.

7) Training and continuous learning: ensuring your lawyers are continuously trained on both their legal knowledge and professional obligations is essential. This also helps remove risk and provide a better quality of service!

8) Innovation: improving workflows and processes, and diversifying or developing new client offerings to differentiate from competitors and respond to client demand.
Why is knowledge management important for law firms?
Law firms trade in the business of knowledge, so it's particularly important that they understand how to use it in the most effective ways. Here are just some of the reasons why knowledge management matters for law firms:
Alleviating time pressure: Lawyers are typically up against it when it comes to time. Having easy access to information can free up wasted time trying to locate what they need.
Increasing efficiency: By centralising knowledge such as guides, templates and reference material, law firms can make it easier for lawyers to find what they need as well as improving decision-making and collaboration.
Improving the client experience: Successful knowledge management increases efficiency and productivity which has a knock-on effect for your clients – boosting their overall satisfaction and enhancing trust.
Reducing risk: It's essential that law firms keep on top of changes in compliance requirements, regulations and legal precedents. Managing knowledge effectively ensures that lawyers have up-to-date information – reducing the risk of errors and non-compliance. Having easy access to knowledge also lowers the risk of lawyers being unable to find what they need and referring to outdated information.
Facilitating training and continuous learning: By harnessing collective experiences and insights, law firms can use this knowledge for training and professional development, knowledge-sharing sessions and mentoring.
What hinders knowledge management in law firms?

Despite the benefits, there can be a reluctance to share knowledge in law firms – often due to cultural or people issues. One of the main obstacles getting in the way of effective knowledge management is the typical law firm structure by practice area. This means that knowledge is not centralised but is instead spread across a number of systems, teams and individuals.
Lawyers also tend to have little incentive to share their knowledge and may perceive this as adding to their workload or diminishing their expertise. Confidentiality can play a part in this too, presenting a genuine reason not to share knowledge (e.g. matter-specific information).
On top of this, legacy tools and outdated tech can make sharing knowledge difficult. These systems can be hard to navigate and lawyers can struggle to find the information they need.
What supports knowledge management in law firms?
The first step towards getting to grips with knowledge management is to research and understand where your knowledge gaps lie. Are your teams working in silos and failing to share information? Are there areas where your firm could benefit from more knowledge sharing?
Look at your knowledge management team to make sure it has the right resources and technology. Assess how you're using existing tools, e.g. your intranet or knowledge base, and whether you could use them more effectively. Create a culture that rewards knowledge sharing and embedding. This will help incentivise lawyers to share their wisdom and prevent it from disappearing if these lawyers leave your firm.
Knowledge management in Legatics
Legatics has several features that support knowledge management. With our custom list templates, for example, your lawyers can create templates based on your firm's own precedents and checklists. They can do this:
from existing lists in matters
from existing template lists (using the 40+ default templates or your own)
from scratch
The use of list templates enables you to manage transactions in a consistent way – ensuring quality as well as efficiency, as it reduces the time to create your matters in Legatics.
The platform also brings together all of your transaction documents securely in one place, for greater visibility, accessibility and reduced risk.
The future of knowledge management
For law firms that want to be competitive and provide a good client experience, robust knowledge management will remain a critical area. Firms and their innovation teams will need to consider the role technology plays in knowledge management. They'll also need to examine the ways that they present knowledge to their clients and external audiences. 
Technologies like document automation, data analytics and AI will contribute to managing and leveraging knowledge more effectively. Client expectations will also continue to play a significant role, as demand for greater cost-effectiveness and transparency continues to grow.