Discussion about 'legal innovation' has been ongoing for quite some time within the legal circle – but legaltech is still in its infancy. Many law firms are still slow off the mark in adopting technologies, according to Isabel Parker, former Chief Innovation Officer at Freshfields and author of Successful Digital Transformation in Law Firms.
There's lots of incremental change around the edges, but not much has fundamentally changed. And at this pace, if it just continues at this very, very slow and incremental pace, I think it will come back to bite law firms.

Isabel Parker
Isabel, along with Shamus Rae (Co-Founder & CEO at Engine B), Richard Ashcroft (Deputy Dean at City Law School), Joe Cohen (Innovation Lead at Dentons), Ben Hunt (Lead Legal Technology Manager, DLA Piper) and Anthony Seale (CEO at Legatics), joined our webinar moderated by Richard Tromans, the Founder & Editor of Artificial Lawyer, to discuss challenges that law firms have to face in adapting to changes, and opportunities they should leverage to become future-ready.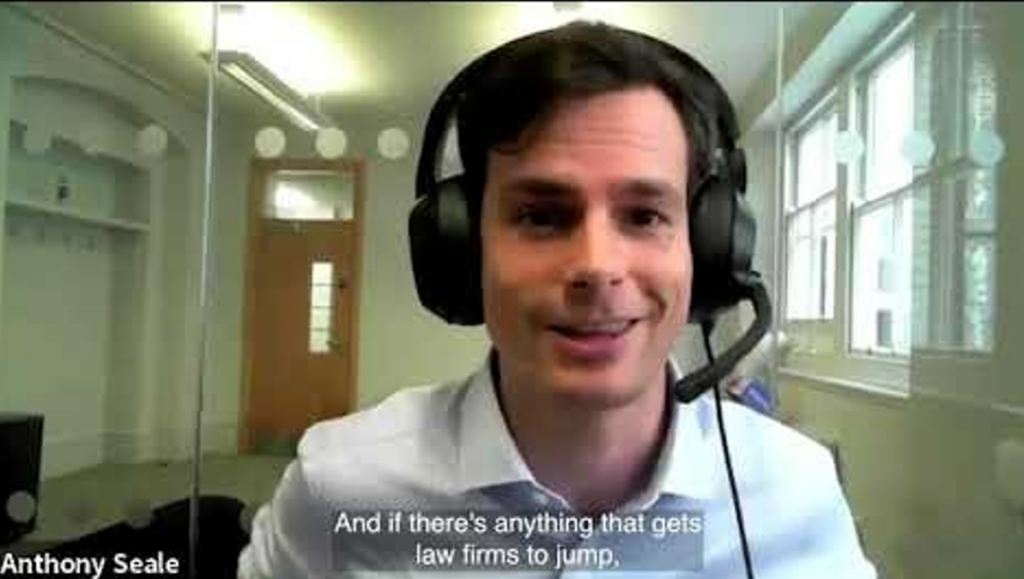 Challenges
1. Lack of economic drivers
Shamus started the conversation by introducing a framework that illustrates a continuum of adoption, ranging from 'apathy', 'active inertia', and 'shiny toy syndrome' to a 'fundamental business model change'. He believes that many legal firms are still stuck in the 'shiny toy syndrome' stage:
All the partners are rushing around to go and get something. They're grabbing shiny toys. And the final piece, which is what I was talking about earlier on – what is the fundamental business model? And is it strategic?

Shamus Rae
Strategic adoption of legaltech means that the implementation of technology should prompt more than just incremental change around the edges. However, the core business model of law firms has stood the test of time through thick and thin. Even during the COVID-19 pandemic, many law firms remained profitable and continued to perform well in spite of the damage and disruption that it caused other industries. Many partners do not see the need to make changes to its business model.
2. Lack of bottom-up influence
Richard Tromans recalled that during his conversation with an international law firm headquartered in London, the partners are so focused on client relationships that they do not care about legaltech. The desire to change, he observed, is coming from the grassroots.
This is because in law firms, junior lawyers are the ones at risk of burnout due to repetitive tasks and endless administrative work. Legaltech software can come in to alleviate their burden, yet they are also the people who are in a position where they have the least say about the way work is done.
'The pressure on them is to conform to the way things are done.' Ben said. 'And that's a natural thing, irrespective of whatever cultural initiatives are put in place at a law firm, because they think that in order to get on and get by, they need to be seen to fit in.'
Law schools, Richard Ashcroft added, have traditionally concentrated on making sure that students have 'gotten their doctrine right'. When it comes to innovation in particular, it is hard to expect junior lawyers to challenge how things currently run, especially in strong cultures like law firms.
3. Pressure of billable hours
In the legal world, the billable hour is king. Innovation is considered to be an extracurricular activity that is optional and unrewarded. Those who are the busiest are occupied by billable work, yet they are the best people to take the lead in creating change. Isabel quoted a study by Reuters that shows an inverse correlation between how busy associates are and the amount of innovation that they do:
There is a chart in that report that shows under-popular activities and popular activities. As people get busier, the under-popular activities, which are delegated to the business support staff, are things like innovation, tech implementation, knowledge management, diversity and well being…in a sense, law firms have become a victim of their own success.

Isabel Parker
Without a proper system of recognizing non-billable work, it is almost impossible to expect innovation to naturally fall into place. And without innovation, law firms will inevitably fall behind.
Opportunities
1. Clients will be the driver of change
There are push and pull factors to creating change in law firms. The push factor, Shamus said, is the push from partners who want to make a difference. However, since there has been a lack of economic drivers, the pull from clients becomes much more important.
'What really ought to drive the change and take us from shiny new choice to business model change, is clients and clients are transforming.' Isabel said. 'And if law firms don't relate to them, and they don't themselves commit to change, they're going to become more and more disenfranchised from their clients, and unable to act in that trusted advisor role.'
Besides clients, in-house legal teams are also spearheading innovation. Shamus thinks that startups will start selling to in-house teams who are more open to change. Once they start digitising services, law firms will be more willing to get up to speed. 'If there's anything that gets a law firm to jump, it's a client saying we had a positive experience from Legatics,' said Anthony.
2. Creating an open and collaborative culture
Law firm culture often discourages junior lawyers to be critical about the existing system. Since junior lawyers are the ones who benefit most from changing the way work is done, the partners should be supportive of them voicing their concerns and empower them to innovate. Joe described how Dentons has mandated trainees to take part in innovation projects, and created opportunities for them to pitch to departments about their ideas:
What we've done is to create a safe space for the junior lawyers. The trainees have to do an innovation project…and it gives them [senior leadership] insight that they wouldn't have had into things that junior lawyers do that can be automated.

Joe Cohen
While there is bottom-up pressure in creating change, it's necessary to have top-down support from management. The culture of encouraging expression of opinions is crucial to facilitating innovation and enhancing competitiveness of the firm in the long run.
3. Creating incentives to bring structural change
'I think we've decided that it kind of all comes down to culture,' Anthony summarised. In order to drive cultural change, he believes, it is crucial to create incentives within law firms with regards to how people are rewarded and promoted. On top of that, Ben said, is to speak with different stakeholders about the problems they face in an open and collaborative manner.
'The most effective change is going to come out of law firms truly working with clients. This is actually sitting down with a blank piece of paper, getting a multi-disciplinary team around the room, saying what your problems are, meaning that and actually delivering a solution around them together.'
Download our eBook to read more in details.