We discuss the comprehensive support we offer to help you roll out Legatics and get the most from your investment
Introducing new legal technology to your law firm might seem complicated or even overwhelming. However, with the relevant support it needn't be an uphill battle and can avoid common issues such as:
Lack of clarity concerning the next steps after the tech is procured
No clear strategy to roll out the technology
Lack of adequate training
Not getting the most out of the new technology, e.g. not being aware of or making use of all the features
As a legaltech vendor, we understand the challenges that come with implementing new technology. As such, it's an area that we place a strong emphasis on in our customer support.
In this blog, we look at the support we offer, what makes it unique and how it helps you navigate your legaltech journey.
How do we work with you?
As a new or existing Legatics' customer, you'll be supported at every stage of your legaltech journey by our Engagement and Customer Success teams.
Our Engagement team works closely with your firm to identify and overcome adoption barriers, maintain momentum and enable you to gain the maximum value from Legatics. The team will also collaborate with you to help plan, execute and monitor platform roll-outs. They do this through a combination of:
Regular catch-ups
Roll-out assistance and guidance
Identifying use cases
Advising on best practices
Our Customer Success team focuses on the practical aspects of getting you up and running, and resolving any technical issues. The team will work with you to organise training sessions and answer questions you have concerning technical aspects of the platform or functionality. They do this through a combination of:
Planning and coordinating training sessions
Proactively checking in with you to ensure your onboarding is progressing successfully
Keeping in touch to ensure the platform is meeting your expectations and adding value to your and your clients' transactions
Managing internal data and metrics to provide insight and reports on platform usage and adoption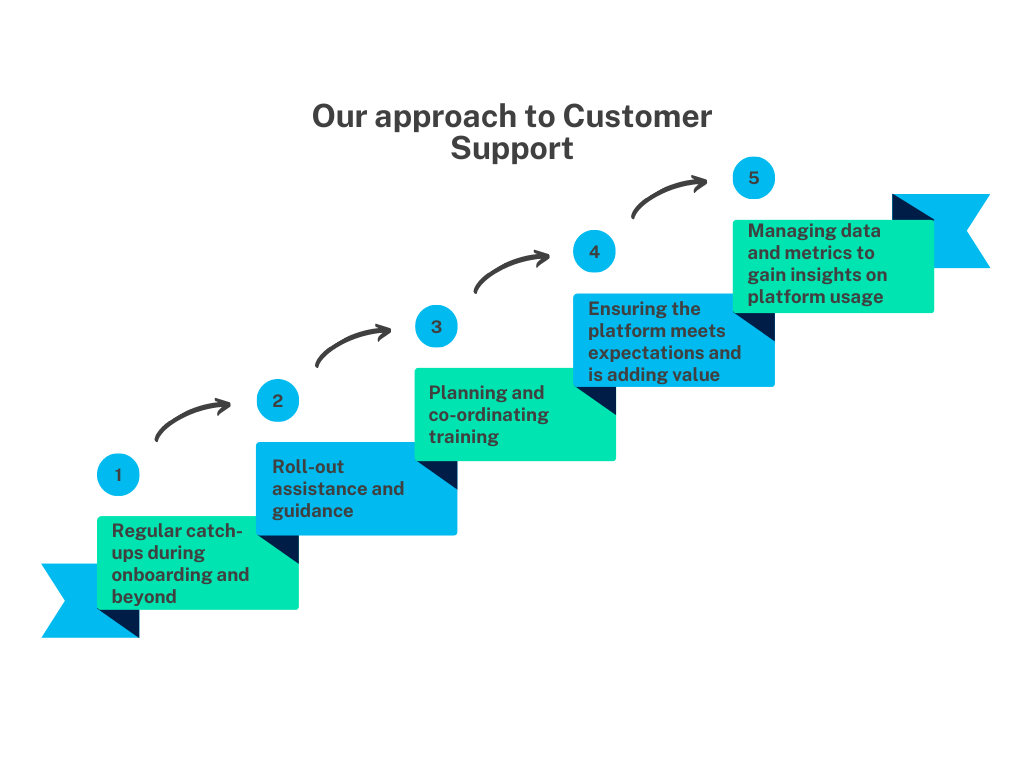 What makes our customer support special?
We structure our customer support to ensure you receive comprehensive help and guidance from your first contact with us all the way through to you becoming an 'established' customer. Key elements of our support programme include:
Kick-off meeting: During this meeting, we'll take the time to get to know you and understand your success metrics. We'll also create action points to help you achieve your goals, discuss training and clarify next steps.
Training: When everything has been set up, the Customer Success team will communicate with you to organise training sessions. We tailor our training options to your needs and include train-the-trainer sessions, training for end-users and interactive follow-the-leader sessions.
One point of contact: Your Engagement Manager will support the onboarding process, and will be on hand to answer any questions and ensure that your Legatics customer environment is set up and integrations are in place. They'll also organise catch-up calls, quarterly business reviews, assist with adoption, and manage commercial discussions.
Support throughout your legaltech journey: We provide technical support by email and telephone, and aim to clear support tickets quickly. This year to date, our average response time to email support tickets was just 9 minutes 30 seconds!
Knowledge base and supporting resources: Our Knowledge base contains tutorials and step-by-step guides to get you up and running. We also have a large selection of supporting resources for you to refer to, such as videos demoing key features.
What do our customers say?
We think our customer support enables you to get the most you can from your investment in Legatics and successfully move through your legaltech journey. We receive consistently positive feedback from our customers regarding this area, such as this recent comment from leading law firm Wiersholm:
"I am very grateful for the support and helpfulness of your customer services. Most of my dealings have been with Grace and Liam and I have been impressed by the way they have dealt with questions I have had, in particular the way in which they have kept me updated."

To find out more about Legatics or to book a product demo, visit our website!